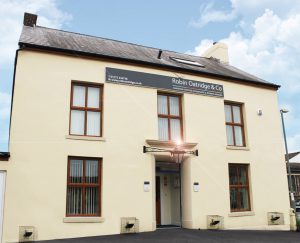 Established in 1977, Robin Oatridge & Co Chartered Certified Accountants provide a wide range of business and taxation services.
Not only do we provide traditional accounting services such as tax, accountancy, value added tax and payroll, we also offer advice for business start ups, planning and expansions, computer software and systems tailored to each particular client's needs and aspirations.
Our approach is that client affairs are managed by a single director, as we believe this is best way for us to fully understand your business, help you attain your goals, and form a successful long term professional relationship. We offer an free initial consultation so we can discuss your needs whatever they maybe, so contact us to find out how we can help you.
Paul Woodburn FCCA

Director

Starting with Robin Oatridge & Co in 1992 and qualifying as a Chartered Certified Accountant in 2002, Paul has over 25 years experience in the profession, and has been director of the Practice since 2005.

Phillip Strange ATT

Director

Philip has over 25 years service with Robin Oatridge & Co, becoming a director in 1997. He has a wealth of knowledge and experience in the profession stretching back over 30 years.

Andrew Hilton BA (Hons), ACA

Senior Manager

After gaining his BA(Honours) degree, Andrew began training in Accountancy and became a qualified Chartered Accountant with the ICAEW in 2012. With over 18 years of practical experience in the profession, Andrew joined Robin Oatridge in May 2021 as a Senior Manager striving to offer a professional and personal service to all his clients.

Ryan Hulme BA (Hons), ACCA

Senior Manager

Ryan has worked in Accountancy since 2010, completing a degree in Accountancy in 2014 and qualifying as a Chartered Certified Accountant in 2017. He has recently been appointed as Senior Manager of Robin Oatridge & Co and strives to offer the best possible service to a wide range of clients.